BECAUSE MOST OF OUR CITY SEWER/STORM DRAINS HAVE NO SCREENS,MILLIONS OF POUNDS OF STREET WASTE LIKE PLASTIC BAGS,CUPS,PAPER,CIGARETTE BUTTS,FAST FOOD PACKAGING END UP IN OUR OCEAN AND ON OUR BEACHES.EVERY MORNING ON THE BEACHES OF SANTA MONICA,VENICE THE TIDE BRINGS IN A LOT OF THAT WASTE AND DUMPS IT ONTO THE SAND.IT THEN REQUIRES A CLEAN UP CREW TO REMOVE THIS WASTE.WHAT ONCE WAS WASTE ON THE STREET NOW HAS TO BE PICKED UP FROM THE SAND AT A VERY HIGH COST.THE MONEY COULD GO TO INSTALLING SCREENS ON ALL OUR SEWERS AND PERMANENTLY PREVENTING THIS POLLUTION PROBLEM.INSTEAD IT IS SPENT ON JUST KEEPING UP WITH THE PROBLEM-YEAR AFTER YEAR AFTER YEAR. THIS OLD SAYING BEARS REPEATING:"AN OUNCE OF PREVENTION IS WORTH A POUND OF CURE".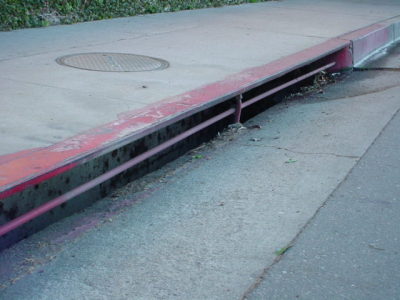 STORM DRAINS WITHOUT SCREENS POLLUTE THE OCEAN
L.A.STORM DRAINS EMPTY DIRECTLY INTO THE LA RIVER WHICH THEN BRINGS IT TO THE OCEAN.
Comments (0) | Add a Comment